21 DAY MEDITATION

For Weight Loss Challenge
SAVE THIS PAGE:
You are registered for this online 21-Day Meditation for Weight Loss Challenge
from February 1 – 21, 2023
Welcome To The 21 Day Challenge –
Here's What You Can Expect During This Live Event:
Daily Email Reminder:

Every day we'll send you an email to let you know that a new meditation is available. Each meditation is only available for 48 hours after release. So make sure to check your email daily to get all the meditations. Every email will start with the subject line: [21DM] . This way you can easily spot the emails!
Set Aside 10 Minutes Every Day:

Each meditation is 10 minutes or less. So make sure to set aside 10 minutes every day to experience each meditation. It's best if you can make this a daily appointment for yourself so you don't miss it. The two times that are easiest is either in the morning before you leave the house or go to work, or in the evening before bed. It's up to you!
Share With Your Friends & Family:

The best way to get real results from this challenge, is to do each meditation. A fun way to enjoy the 21 Day challenge is by doing it with a friend or family member. Anyone can receive huge benefit from this challenge, whether they want to lose 50 pounds, or 5 pounds. After 21 Days of daily meditation, you'll feel more relaxed and at peace. It's a gift that keeps on giving – so share this with your friends and ask them to join you!
Bookmark This Page:

Make sure to bookmark this page so you can easily reference this page each day to access your FREE Meditation. You can also access this page from your daily email reminders.
Week 1

: Fitness, Health & Vitality

Meditation Ends
in 21 hours, 45 minutes, 23 seconds

Meditation Ends
in 1 day, 21 hours, 45 minutes, 23 seconds

UPCOMING
Day 3: Digestive Flow
Digestive power / I digest easily and effortlessly
Friday 2023-02-03 03:00
Meditation Starts
in 17 hours, 45 minutes, 23 seconds
Day 4: Live Body, Live Food
I eat life force foods /
I am vitality
Saturday 2023-02-04 03:00
Day 5: Sending Love
I radiate Love /
I love my body
Sunday 2023-02-05 03:00
Day 6: Healing Energy
I radiate healing light. I am life force vitality
Monday 2023-02-06 03:00

Day 7: Ideal Body
I am effortlessly fit / I am my ideal body.
Tuesday 2023-02-07 03:00
Week 2

: Safety & Weight Loss
Day 8: I Am Safe
I am Safe / Safe to release excess weight
Wednesday 2023-02-08 03:00
Day 9: Feeling Protected
I am protected / It's safe to let go of the weight
Thursday 2023-02-09 03:00
Day 10: Strong and Secure
I am strong, secure and grounded / I easily release the excess weight
Friday 2023-02-10 03:00
Day 11: Power
I have power / power to create my ideal body, ideal life
Saturday 2023-02-11 03:00
Day 12: Releasing Fear
I let go / let go of
excess weight.
Sunday 2023-02-12 03:00
Day 13: Forgiveness
I forgive, I love, I accept / I forgive, love, accept my body, my life.
Monday 2023-02-13 03:00
Day 14: Feeling Free
I am free, free to let go of excess weight.
Tuesday 2023-02-14 03:00
Week 3

: Stress Reduction for Weight Loss
Day 15: Breathing Peace
I am at peace / I peacefully release excess weight.
Wednesday 2023-02-15 03:00
Day 16: Calm Light
I am calm / I calmly release excess weight.
Thursday 2023-02-16 03:00
Day 17: Inner Wisdom
I am guided / Guided to my ideal body, ideal life.
Friday 2023-02-17 03:00
Day 18: Success
I allow success / Success in weight loss, success in life.
Saturday 2023-02-18 03:00
Day 19: Worthy
I am Worthy, I am Deserving / Deserving of my ideal body, ideal life.
Sunday 2023-02-19 03:00
Day 20: Trust
I trust, I am guided / guided to my ideal body, ideal life.
Monday 2023-02-20 03:00
Day 21: Abundance
I allow abundance into my life / Abundance effortlessly flows to me.
Tuesday 2023-02-21 03:00
Join The Challenge Now & Start Transforming Your Body & Life
PRIVACY: 100% safe & secure
Want to own the entire collection?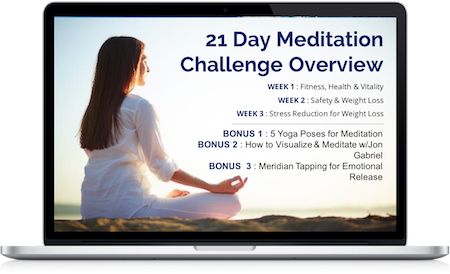 Complete 21-Day Meditation for Weight Loss Challenge Archives

Click Here To Learn More